Travis Meyer '02 - "Travis? It's Coach B."
Travis Meyer '02
"Travis? It's Coach B."
By: Travis Meyer '02
Other than a Virginia area code, I didn't recognize the number calling. But listening to the voice mail, I heard a familiar and welcome voice: "Travis? It's Coach B." The next day, Coach Rob Bordley and I spoke for forty-five minutes. He called to thank me for supporting a Landon campaign, and we touched on a great many subjects – our families, current events, and goings on in the world of lacrosse.
This weeknight conversation, held during a global pandemic, prompted me to consider other, earlier calls with Coach Bordley and to trace the evolution of our relationship.
Arriving home after finishing a final exam during my senior year at Landon, my mind was a bit jumbled after hours of mathematical equations. Yet there was reason to celebrate: my first choice for college had accepted me, and Coach Bordley had played a role in that opportunity. He had reached out to my future lacrosse coach (despite my lacrosse career lacking in distinction to that point). So, I called Coach Bordley to thank him. The call was brief. He was happy for me, but he also had a blunt message: "Time to work even harder." After all, we had a full season of lacrosse to play.
A few years later, I stood outside a gym, listening to my college lacrosse coach give out instructions after practice. After wrapping up, we all moved toward the locker room. "Travis? I was just talking to Coach Bordley from Landon. He says he hasn't heard from you in a while…" Embarrassed and with a crimson face, I mumbled a few sentences in response to what was a true statement. In college, with plenty to do, there were other areas where I was spending my time.
I soon remedied my fault. But being called out for my lack of outreach lingered and highlighted a lesson: Stay in touch. Check in with those who have had a positive impact on you. A little outreach goes a long, long way.
Fast forward a few years, and I was looking for a change. Not quite enjoying my first job out of college, I had a line on an opportunity doing something Coach Bordley knew well: teaching and coaching. Predictably, I reached out to him and recall him saying something like this: "Let me tell what it's really like. It's no joke. There are no days off. No days where you can coast by and pretend no one sees you."
He was exactly right. Teaching and coaching at a boarding school in Connecticut, six days a week, was demanding and offered little time for reflection or even rest. Unlike Landon, I lived in the dorm with students, adding to the all-encompassing nature of the role. Coach Bordley had done his part in illuminating the constant demands of teaching, but he had also taught me about its lasting rewards.
His teaching model influenced the way I taught. In the Landon classroom, Coach Bordley's energy and pace were contagious. As a student in his history class, I remember lively discussions and frequent verbal nudges to go beyond what was in the textbook. His admiration for certain historical figures and pivotal moments remains vibrant in my memory. To be sure, while I cannot claim that majoring in history was solely the result of Coach Bordley, he affirmed my sincere interest in the subject and helped inform the way I taught it.
My recent call with Coach Bordley also returned me to a few searing memories at Landon. Anyone who has ever received "feedback" from him knows that, yes, he gets his point across rather well. In one case, the table where a few friends and I had been sitting in the cafeteria was not spotless when we left. And Coach Bordley, in his way, let us know about it, prompting us to return to the table, rapidly. At that time, he was a singular figure for me: Landon's lacrosse coach. And I wanted a chance to play for him. Encountering Coach Bordley in the cafeteria that day likely did not improve my chances, but it did add more to my appreciation of him: he was as demanding off the field as he was on it.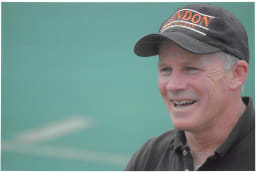 Playing for Coach Bordley was indeed an honor – and full of pressure. His accolades stretch a great distance, which is why his election to the National Lacrosse Hall of Fame this year is no surprise. It is tremendously well-earned. In two years playing for him, my teammates and I only lost a single game; as it turned out, my first on the varsity. The victories and thrills were many, but they now pale next to a memory of Coach Bordley breaking down in tears after admitting he always longed to be carried on the shoulders of his players after a win. This was a feat we performed my senior year after securing another IAC title – and undefeated season – on Goddard Field in overtime.
Landon Lacrosse caused me to grow as a player and a person. But that experience did not end the last time I wore the brown and white. Continuing my conversations with Coach Bordley after college helped influence my professional steps and maintain a connection to the formative experience of playing for him. It also prompted me to write Coach Bordley during my college lacrosse days and tell him how meaningful playing for Landon was and what a special experience it was, even though my college team played in the national championship twice.
Relationships evolve. People move, take up new pursuits, and start families. Yet some things endure. For me, Coach Bordley remains a steadying presence during a tenuous, uncertain time. I am grateful for the positive impact he has had on my life and the role he continues to play.
As we wrapped up our recent call, I asked Coach Bordley to take good care of himself. He responded in kind and asked that I say hello to my parents, whom he had seen for dinner in Florida earlier this year.
Before signing off, I offered this wish: "Talk to you soon, Coach."